10 August 2011, JellyBean @ 6:22 am
Crop circles have always intrigued us. We have long debated whether their origins are man-made or extraterrestrial or something other.
Now we have the answer! At least according to Lara Giddings, the attorney general for the island state of Tasmania.
According to Giddings, wallabies that are stoned on Opium cause crop circles!
This from the Huffington Post:
Some people believe space aliens are responsible for those bizarre patterns found in farmland known as crop circles. Others are now saying the culprits are actually spaced-out critters.

Australia grows 50 percent of the world's legal opium, and you might be a bit shocked to learn what it does to the local wildlife.

Wallabies have been eating the crops and essentially getting "high as a kite," according to an Australian official who talked to the BBC. The marsupials are eating the poppies that grow on the plants, which are used to make painkillers like morphine.

But what they do next is even more bizarre.

The hopped-up creatures often walk around in the fields, creating crop circles that initially confused farmers, The Global Post reported. It's not just the wallabies having a good time inflicting damage on the medical crops — sheep have also been seen tramping on the crops, The Post reported.
29 April 2011, JellyBean @ 6:53 am
Are crop circles evidence of aliens, or are they merely the handiwork of artistic humans?
Take a look and decide for yourself!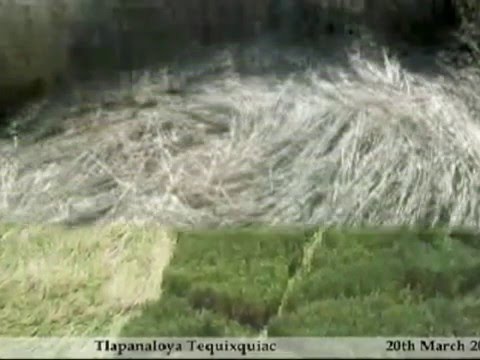 Crop circles included:
Crop Circle in Krasakan, Yogyakarta in Java, Indonesia – 23rd January 2011
Wanujoyo in Java, Indonesia found on 25th January 2011.
Tegalrejo in Java, Indonesia, reported on 29th January 2011.
Crop circle in Tlapanaloya, Tequixquiac, Mexico – 20th March 2011.
Bosschenhoofd in Netherlands, found on 24th April 2011,
Crop circle at Innage near Chepstow in Wales, UK – 22nd April 2011.
3 June 2009, JellyBean @ 11:16 am
8 May 2009, JellyBean @ 1:02 pm
They have started!
Yes it is now crop circle season again in the northern hemisphere and this year has kicked off with a bang!
Two mysterious circles appeared on ancient burial sites near Swindon, England. The first appeared on April 14th just outside Avebury, an ancient site of standing stones. At 120 ft it was quite a big one.
The second appeared on April 19th on the West Kennet long barrow, also an ancient burial site. This design was different as it contained a 'pisces' design inside it.
Both were found by crop circle hunter, Stuart Dike, 40.
"Both of these circles echo other formations which have appeared in previous years.
"Crop circles are mind-boggling things. I was awestruck by the size and beauty of these two crop circles."
Across the ocean in Bedford County, Virginia, other crop circles have turned up on May 4th. Owner of the property, Ralph White, dismisses the possiblity of aliens. He does however call the phenomenon 'unearthly'.
(more…)
Newer Posts »