5 July 2012, JellyBean @ 6:15 am
A team of researchers will take an expedition to the Shennongjia forest of China's central Hubei province, a forbidding 1,000 square mile reserve of high mountains and deep forests, to find evidence of the "Wild Man".
For centuries, the villagers around the Shennongjia reserve have believed that the "Wild Man", or Yeren, lives among them.
Standing just under seven feet tall (2.15 metres) and covered in dark grey hair, this Chinese incarnation of Bigfoot or the yeti has been spotted hundreds of times, the Age reported.
Size 12 primate-like footprints have been documented in the area, and long thick strands of hair have been tested by scientists, who concluded that they did not belong to any of the known creatures inside the reserve.


But no one has ever proven its existence.
This weekend, the team of 38 researchers drawn from several Chinese universities and research institutes will fan out across the Shennongjia reserve on an expedition to catalogue the region's unique ecosystem.
Their trip will continue throughout August, and the researchers will collect data on some 1000 different types of animals that live in Shennongjia, including the golden snub-nosed monkey and a white-furred bear that is found only in the reserve.
If the researchers manage to uncover concrete evidence of the Wild Man, they will have succeeded where two previous major expeditions – one from 1974 to 1981 and one in 2010 – failed.
"I simply want to put an end to the argument that it exists," said Wang Shancai, of the Hubei Relics and Archaeology Institute, when he set out in 2010.
In 2005, Zhang Jiahong, a shepherd in Muyu, near the forest, told state media he had seen two of the creatures, with "hairy faces, eyes like black holes, prominent noses and dishevelled hair, with faces that resembled both a man's and a monkey's".
Another explorer, Zhang Jinxing, spent years living as a hermit in the Shennongjia forest, and said he had seen footprints on 19 separate occasions, without ever finding the beast.
However, Zhou Guoxing, a former director of the Beijing Museum of Natural History and a paleontologist, has cast doubt on the idea that there may be a Chinese Bigfoot.
"There is no Wild Man in this world. I've visited every place where the Wild Man was reported in China. I've studied everything related to the Wild Man including hair, skulls and specimens. All of them are dyed human hair or come from monkeys and bears," he said earlier this year.
He added that the local government in Hubei was simply trying to drum up tourist revenue.
26 August 2011, JellyBean @ 3:43 am
Scientists are baffled as panicked Chinese upload photos of phenomenon. This reminds me of the Mysterious bubble-like light burst seen over Hawaii.
Dozens of people spotted an unidentified, glowing object above Shanghai and Beijing at the same time.
The giant ball of light appeared Saturday night.
A pilot flying from Shanghai to Changchun was the first to post information about the colossal light online.
The pilot says the so-called "UFO" grew in size and ended up being about 100 times larger than the moon.
He said the sphere slowly faded as it hovered above Shanghai for nearly 20 minutes.
An expert from Shanghai UFO Research Center suspects the UFO could be the fragment of a satellite launched by Russia two days earlier.
Report by ITN: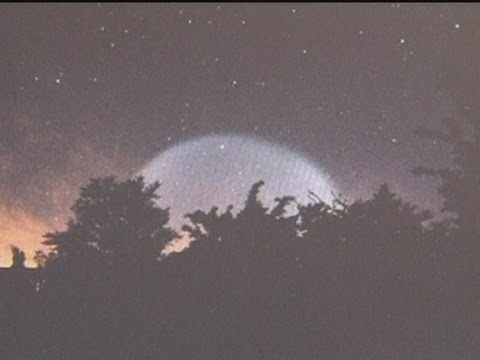 19 August 2011, JellyBean @ 8:00 am
Once again, an Unidentified Flying Object, i.e., a UFO is responsible for air traffic being diverted and or delayed at an International Airport in China.
UFO was spotted over the runway at Chongqing Municipality's Jiangbei International Airport led to flights being disrupted yesterday.
Airport traffic was restricted for around an hour from about 12:30pm before the object left the area and the alert was lifted, according to Chongqing media reports.


Passengers on several flights were delayed when their aircraft were diverted to other airports after the mysterious object was spotted.
The Chongqing government has not officially offered an explanation of what the object was.
The news that a UFO was sighted at the Jiangbei airport spread quickly across Chinese social networking websites yesterday, creating much excitement online.
The airport said two flights from Beijing that were about to land had to divert to two other airports in the region following the restricted traffic alert.Two other flights en route to the airport were also forced to land elsewhere, said officials.
By 1:20pm, the alert was lifted and normal traffic resumed, the airport said. The affected aircraft started returning to Chongqing later yesterday.
This is not the first time a UFO has been seen at Chongqing.
Last year as most readers will recall, a similar UFO sighting took place at Xiaoshan Airport in Zhejiang's provincial capital of Hangzhou; that event caused quite a stir both in UFO circles, as well as being picked by the mainstream media.
Source: UFO-Blogger
9 August 2011, JellyBean @ 4:43 am
An amazing UFO was caught by a group of observers in China in the eve of Aug 07, 2011.
As you can hear in the background, observers were screaming at the object, asking each other whether it was a plane caught on fire, a rocket, or something else. However everyone agrees it's UFO. The object was moving very slow according to the observer.
Real, fake or explainable?
Newer Posts »