20 September 2011, JellyBean @ 6:36 am
A Northern Territory man was shaken after an encounter with a UFO south of Tennant Creek. The man, who wished to be identified only as Aiden, was an hour south of Tennant Creek on his way to Melbourne when he noticed a bright light following him closely. Aiden said he had left Tennant Creek at about 3.30am.


"About an hour after I had set off I looked in my side mirror and noticed a light behind me," he said. He thought nothing of it, believing it was another car – but the light got brighter. "I thought 'geez, they must be driving fast' as I was doing 120km/h," he said. "When I looked again after a few minutes the light was really bright but it was in the bloody sky."
Aiden said he started to freak out when he noticed the light was not coming from another car or truck. "I put the foot down a bit more," he said. "Then I looked back again and this time the light was huge and the most brightest light I had ever seen. But the strange thing is that the light had like an orange colour to it, but was white at the same time.
"It was about the size of a large car and stayed with me for about 20 or 30 minutes. I said to myself: 'no, no, no, not me, go and take someone else, I am not interested," he said. Expert Territory UFOlogist Alan Ferguson said it had happened many times before. "The Aborigines called them 'min min' lights'," Mr Ferguson said.
Source: NT News
7 June 2011, JellyBean @ 7:34 am
In cases like this, you have to wonder whether the Aussie government lost their X-files on purpose…
After a 2 month search for UFO records due to a Freedom Of Information request by the Sydey Morning Herald, the Australia's Department of Defence had been 'unable to locate the files'.
The files detail all reported sightings of UFO's from across Australia.


"The files could not be located and Headquarters Air Command formally advised that this file is deemed lost," the department's FOI assistant director, Natalie Carpenter, told the paper.
Apparently the could only find a single file called "Report on UFOs/Strange Occurrences and Phenomena in Woomera," a military weapons testing range in the centre of Australia's vast outback.
When the news came out, conspiracy theories quickly began doing the rounds on the net.
Most bloggers and commentators pointed out that it was strange that they have ALL vanished without explanation. They went on to ask what the government was hiding.
Governments from around the world have recently been releasing their old UFO files. The recent release of files in the UK also prompted conspiracy theories.
In this case files from the 'Rendlesham Forest Incident' had also mysteriously disappeared with explanation. Many people say that this incodent is as big as the US 'Roswell Incident'.
The Australian government has not yet responded for requests for comment on this case.
19 August 2010, JellyBean @ 3:24 pm
Fears are growing for the safety of young drivers in an Australian town as a dangerous urban legend has them trying to hit 111mph on an unlit road to conjure the ghost of a dead motorcyclist – and film it for YouTube.
The trend has become so prevalent that local police have been forced to issue public warnings as residents fear for their safety on the roads at night.
The urban legend tells that newly qualified drivers – known locally as 'P Plates' – in Newcastle, New South Wales, who achieving the speed on Lemon Tree Passage can summon the spirit of a 20-year-old motorcyclist who was killed in an accident on the road in 2007.
It is alleged the 'ghost' of the dead motorcyclist appears as a bright light chasing after drivers trying to make them slow down.
As fears that teenagers speeding dangerously are distracted while driving by either the 'ghost' or the act of filming, police are worried that the dangerous high-speed stunt is also putting other motorists at risk.
A spokesman for Port Stephens said: 'It is alleged that if you drive at speed in a dangerous manner, a bright white light comes in behind you and that's what they are calling the Lemon Tree Passage ghost.
'There have been several phone calls that people are going out there and while attempting to get footage for YouTube these cars are traveling at excessive speed.'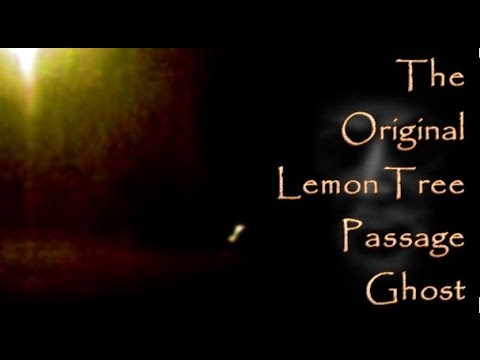 'We want speeding drivers to know that the only bright light they'll be seeing in their rear windows will be the red and blue lights of a police car.'
However, it has not prevented a raft of videos being uploaded to YouTube claiming to show the ghostly bright light filmed from the rear window of speeding cars as dozens of youngsters join in the dangerous trend in the area 100 miles north East of Sydney.
Read more: Daily Mail
29 July 2010, JellyBean @ 9:33 am
FORGET UFOs and the Yowie – the biggest Outback mystery is the Territory Tiger.
The grainy still below was taken from footage filmed in the 1990s by Territorian Jan Donovan.
Author Rebecca Lang said the large, sandy cat appeared to be of "considerable size", and could be the descendant of escaped circus cats.
Ms Lang and co-author Mike Williams have spent the past five years compiling reports of sighting and collecting photos and video of large cats that resemble leopards and pumas for their book Australian Big Cats: An Unnatural History of Panthers.

Courtesy: NT News

The earliest account was from 1883 by SA explorer Charles Winnecke. The journal of his exploration on the WA-NT border says Winnecke came across a "wild cat of an extraordinary size".
"The brute was nearly as large as a leopard," he wrote.
Ms Lang said these cats had a lifespan of 20 years – but the sightings have continued for 150 years.
"We know the earliest circus menageries started up around 1850, so it's conceivable that the odd circus cat could have ended up in the bush," she said.
"Transport arrangements were notoriously dodgy back then and escapes happened all the time."
Source: NT News
Newer Posts »