6 May 2010, JellyBean @ 5:25 pm
A man was bitten by three people and had his blood drunk in an alleged vampire-type attack in the dark on Wellington's Mt Victoria.
Two men and a woman have been charged with wounding with intent to render a man unconscious in relation to the bizarre attack on February 20.
James Phillip Brooks, 22, and Xenia Gregoriana Borichevsky, 19, were at Wellington District Court yesterday.
A warrant has been issued for the arrest of the third accused, James Eric Orr, 19.
Brooks told The Dominion Post yesterday that all three bit the victim, but he did not draw blood. "Do I look like a vampire?
The three were jointly charged last month with wounding with intent to render a man unconscious on the night of February 20, court documents show.
The charge carries a maximum penalty of 14 years in jail.
It is understood the victim passed out after being bitten.
Read more:
4 May 2010, JellyBean @ 9:35 pm
Indian military scientists are studying an 82-year-old who claims he has not had any food or drink for 70 years.
Prahlad Jani is being held in isolation in a hospital in Ahmedabad, Gurjarat, where he is being closely monitored by India's defence research organization, who believe he may have a genuine quality which could help save lives.
He has now spent six days without food or water under strict observation and doctors say his body has not yet shown any adverse effects from hunger or dehydration.
Mr Jani, who claims to have left home aged seven and lived as a wandering sadhu or holy man in Rajasthan, is regarded as a 'breatharian' who can live on a 'spiritual life-force' alone. He believes he is sustained by a goddess who pours an 'elixir' through a hole in his palate. His claims have been supported by an Indian doctor who specializes in studies of people who claim supernatural abilities, but he has also been dismissed by others as a "village fraud."
Read more:
3 May 2010, JellyBean @ 9:46 pm
A Chinese man says for the past 40 years he's snacked on broken glass from lightbulbs, adding that he finds them "crispy and delicious."
54-year-old Wang Xianjun, from the Sichuan province of China, claims he started eating light bulbs when he was 12 years old, and that he must have now eaten about 1,500 lightbulbs in total.
Xianjun says it all started when he accidentally swallowed a large fish bone as a child. His parents were worried what the bone might do to his insides, but he didn't feel any discomfort at all.
Read more:
23 April 2010, JellyBean @ 6:27 am
Turkmenistan's quest to triple its already copious gas reserves has a fiery new focus: a flaming pit in the middle of the Karakum Desert.
A gaping crater dubbed "Hell's Gate" has been spewing flames and smoldering in a remote part of the isolated Central Asian nation since a Soviet-era drilling accident nearly 40 years ago.
It has attracted some of the few foreign tourists who travel to Turkmenistan — and hundreds of thousands of hits on YouTube videos such as here .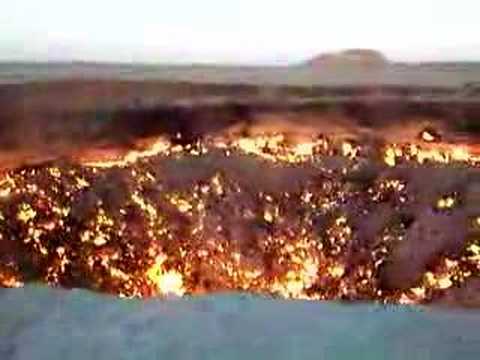 Now it has caught the eye of President Kurbanguly Berdymukhamedov. He visited the crater this week and ordered local authorities to look for ways to get rid of it or ensure it would not hinder the development of nearby gas fields, state television in the tightly controlled nation reported.
Read more:
« Older Posts — Newer Posts »