1 September 2011, JellyBean @ 9:24 am
Over the past four years, a number of severed feet have washed up on beaches near Vancouver, along the southern Georgia Strait and off Washington state.
Most of the remains have not been identified, but two of the feet are believed to have belonged to men who had been reported missing.
Now another severed foot has been found in a jogging shoe.


The latest remains appear to be a human foot and leg bones found in a running shoe, police said.
"The shoe was found floating in the water next to the Plaza of Nations marina in False Creek," Vancouver police Const. Jana McGuinness said in a news release.
'It was quite disturbing – quite a discovery to make,' she added.
In prior cases, police said the feet appeared to have come off bodies naturally and that foul play was not suspected.
Police so far have no theories about how or why the foot ended up in the water, and The Canadian Press said the British Columbia Coroners Service is involved in the investigation.
Feet of both men and women have been among the grisly discoveries. When they first started turning up, there was speculation that a serial killer was at large, that the remains were part of a human trafficking ring from Asia or that remnants of bodies were washing up from the 2004 tsunami, according to The Star.
But oceanographers determined the bodies originated somewhere along the West Coast.
The first foot was discovered in August 2007 on Jedidiah Island in the Strait of Georgia. A week later, another foot was found on Gabriola Island. Since then, they have turned up with bizarre regularity.
DNA testing is underway but police are currently at a loss to explain how it got there.
12 April 2011, JellyBean @ 10:12 am
In 2008 a stick-figure creature got video'ed creeping around Fresno backyards and was subsequently dubbed "The Nightcrawler". Many tests on the video and attempts to recreate the creatures strange gait proved fruitless.
Either the video was genuine, or the hoaxers were very good.
Now another video has emerged of similar looking creatures:
A retired couple was having trouble with break-ins in their Yosemite private property and aimed their security camera at the driveway to video visitors.

They caught these things on their security camera and called me over to see because they know I am interested in the paranormal. They gave me this digital copy but I can't figure out what the crap they are!

They remind me of the Fresno Stick-like creatures but they seem to transfer weight and there are two here. Is one a baby? What are these!? Nightcrawlers? Stickmen? Something new? What?
The source video: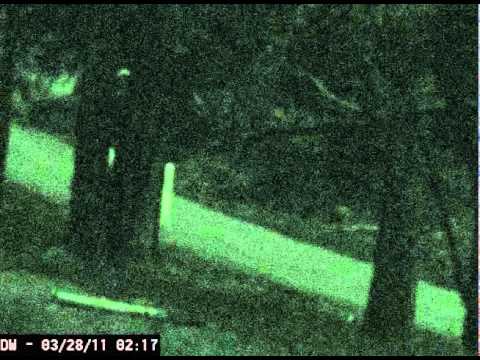 18 October 2010, JellyBean @ 12:46 pm
Hi all
I have been a little busy on a new exciting project and as a result I have not posted here in a few days. Please bear with me and I will be updating again soon.
-J
31 July 2010, JellyBean @ 6:57 pm
An unusual experience was recounted from 1981 by a former Utah park ranger where a church group reported a flashing light circling a nearby canyon that revealed a "creature-like" object, according to testimony from the Mutual UFO Network (MUFON) witness reporting database.
The event occurred at the Glen Canyon National Recreation Area.
"The light was described to be similar to a strobe light and bright enough to light up the canyon wall,'" the former ranger stated. "The group observed the light flying in close proximity to their campsite for approximately one and a half (1 1/2) hours. At one point it (the object) was thirty (30) feet away when group member shined a spot light on it and described what he saw as 'creature-like.'"
The report further states that during the "summer of 1981 the National Park Service received a number of reports, from visitors, camped on the shoreline of Lake Powell, of 'giant fireflies.' Several of the reports were received at the Carl Hayden Visitor Center, located near Glen Canyon Dam."
Read the whole encounter here: Examiner
Possibly related posts: (automatically generated)
Related posts on Alien encounters
Newer Posts »