8 February 2012, JellyBean @ 4:54 am
Police in South Africa have arrested a suspected fraudster for impersonating the award-winning traditional singer Khulekani Kwakhe "Mgqumeni" Khumalo, who died in 2009.
The unnamed man, who appeared in court in the eastern KwaZulu-Natal province on Tuesday, had said he had not died but was kidnapped by a witchdoctor who cast a spell on him and imprisoned him in a cave with zombies, local media reported.
Thousands of people in Khumalo's rural eastern home village of Esiggumeni, turned out to see the man at the weekend. Riot police with truncheons and water cannons were deployed to keep the crowd under control.
The man told reporters: "I have been suffering a lot at the place where I was kept with zombies. It was hell there and I am so grateful that I was able to free myself and return to my family and you, my supporters."
"I have always been alive," he was quoted as telling the crowd. "I have lost a lot of weight but it is me."
Police said the suspect's fingerprints do not match those of the famed singer. The man also does not have the same scars on his face as Khumalo had.
"Detectives conducting the enquiry were convinced that the matter required criminal investigation," police said in a statement.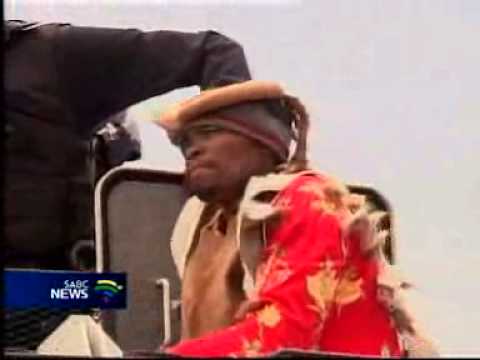 15 March 2011, JellyBean @ 8:56 am
The earthquake and tsunami that have recently taken place in Japan, along with the nuclear aftermath are a major event of this year. Such devastation will surely be one of the news events of the decade.
Why did the psychics not predict this happening? Or did they?
If you take a look at predictions for 2011 on the Strange News Daily Blog, not one of the psychics covered predicted in detail that such a devastating event would take place.


Looking at the Psychic Twins website, they claim that they had made the prediction in an article for Samuel Chong for Chinese Google on 6/15/10. No further details are provided, or links to the article.
Their predictions as rather hard to check as they only write down their claims after the event. If they wrote their predictions down before the event they would be rather more credible.
Psychic Nikki predicted in her 2011 predictions:
73) A huge earthquake in Japan.
there is no mention of the tsunami or any nuclear issues. Considering that Japan is hit by 'huge' earthquakes pretty often, I would not say that this one was specific.
Craig Hamilton-Parker only mentioned "This will be a year of earthquakes and volcanic activity" but was more specific in saying that most would take place in the US. No mention was made for Japan specifically.
Canadian psychic and medium, Blair Robertson, correctly predicts Japanese earthquake and tsunami in quite a dramatic fashion.
On March 8, he sealed his prediction in an envelope, to be opened during a fundraiser to benefit Relay for Life – Canadian Cancer Society in Shawville, Quebec.
The envelope was sent ahead via courier to the local town hall and placed in the town safe.
Shawville Mayor Albert Armstrong opened the envelope on stage this weekend in front of nearly 200 people.
Robertson had accurately predicted that a massive earthquake and subsequent tsunami would affect Japan "on Friday or Saturday," the astonished Mayor read.
"I had no idea it would be as bad as it turned out," said Robertson,"And I never got anything about the destruction of the nuclear reactor."
He does the predictions as a hobby and posts them on each week on his website.
He also admits that he is not always 100% accurate. He had previously correctly predicted the New Zealand earthquake and even the problems of Charlie Sheen.
Was this an elaborate stage trick, or is this the only case so far where a psychic has got it pretty much exactly right?
On 7-2-2011 a member of the Above Top Secret Forum wrote of a dream they had:
OK, I have never bothered posting anything like this before, but though this was a good a time as any to start!.

By no means am saying that I am psychic of have precognitive skills.

Last night, I had a brief dream in which I saw a map of the USGS world view (which I do check on and off)

On it I saw a LARGE RED sqaure surrounded by many other smaller squares just of the east coast of Japan. The thing was this square was much larger than the normal size square USGS put up for a 7+

Normally would not think much of this, but this was one of those that sticks clearly in my mind, and I can still see with my waking eye.

– Just to add previously I have had experience of having headaches prior to large EQ's including just prior to the Chile quake I woke up with an urge to watch videos of the 2004 Tsunami, which was unexplained. Later I was involved in the massive thread about that quake and the ensuing Tsunami warnings.

Just though everyone might like to know. And if not, then whatever.
Eerily this dream seems to have come true! Is this a case of a psychic vision, or is it just synchronicity? Another person also questioned this prediction as Japan has many large earthquakes each year.
It seems as though these predictions raise more questions than they answer about whether certain people have access to a hidden knowledge of things to come. My guess is that it is down to belief.
9 March 2011, JellyBean @ 10:04 am
21 February 2011, JellyBean @ 8:26 am
'Gawd Bless America' is a upcoming documentary that shows the fraudulent side of the paranormal.
In 2008, the thirtysomething Freeman and the then-sixtysomething Tessina went off on a cross-country adventure to interview so-called experts on alien abductions, ghost hunting, crop circles, psychic healing and more, all in an effort to expose the truth behind their wild, other-worldly claims.
The result is "Gawd Bless America," a documentary opening in theaters March 4, that blends "Borat"-like antics with "Religulous"-like irreverence to reach, Freeman said, something "real."
Read more about it HERE
Thanks to Ghost Theory for the heads-up!
Newer Posts »