8 February 2012, JellyBean @ 4:54 am
Police in South Africa have arrested a suspected fraudster for impersonating the award-winning traditional singer Khulekani Kwakhe "Mgqumeni" Khumalo, who died in 2009.
The unnamed man, who appeared in court in the eastern KwaZulu-Natal province on Tuesday, had said he had not died but was kidnapped by a witchdoctor who cast a spell on him and imprisoned him in a cave with zombies, local media reported.
Thousands of people in Khumalo's rural eastern home village of Esiggumeni, turned out to see the man at the weekend. Riot police with truncheons and water cannons were deployed to keep the crowd under control.
The man told reporters: "I have been suffering a lot at the place where I was kept with zombies. It was hell there and I am so grateful that I was able to free myself and return to my family and you, my supporters."
"I have always been alive," he was quoted as telling the crowd. "I have lost a lot of weight but it is me."
Police said the suspect's fingerprints do not match those of the famed singer. The man also does not have the same scars on his face as Khumalo had.
"Detectives conducting the enquiry were convinced that the matter required criminal investigation," police said in a statement.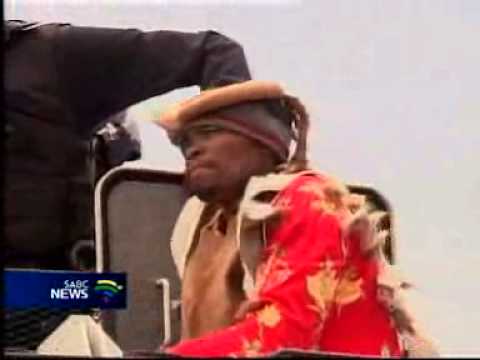 8 February 2012, JellyBean @ 3:42 am
Essential work on planned reservoirs in Zimbabwe has stopped because mermaids have been hounding workers away, according to the country's Water Resources Minister.
Samuel Sipepa Nkomo told a Zimbabwean parliamentary committee that terrified workers are refusing to return to the sites, near the towns of Gokwe and Mutare.
Minister Nkomo said the only way to solve the problem was to brew traditional beer and carry out any rites to appease the spirits.
'All the officers I have sent have vowed not to go back there', Minister Nkomo was reported as saying in Zimbabwe's state-approved Herald newspaper.
Mermaids are mythological water creatures with a female body twinned with the tail of a fish.
Opinion about the existence of mermaids varies throughout Zimbabwe – some people are skeptical, but some firmly believe that mermaids exist in Zimbabwe.
Dating back centuries, many mermaid stories continue to make their rounds in Zimbabwe.
One tale says mermaids carry humans underwater, but if there is a public outcry their relatives might never see them again.
But another tale suggests victims can return as spirit mediums if their disappearance is not mourned.
The senior politician said that mermaids were also present in other reservoirs.
'We even hired whites thinking that our boys did not want to work but they also returned saying they would not return to work there again,' he added.
The two, long overdue reservoirs are considered essential if Zimbabwe is provide adequate water to its population and to boost its agricultural production.
Having once been the 'bread basket' of Southern Africa, the country's farms have been laid low by lack of faith in government policy.
From 2000, President Robert Mugabe expropriated some 4,000 white owned farms and gave them to politically connected blacks.
Partly as a result, agricultural production is this year forecast to be at its second lowest level since Zimbabwe achieved independence from Britain in 1980.
The belief in mermaids and other mythical creatures is widespread in the country, where many people combine a Christian faith with traditional beliefs.
Local Government, Rural and Urban Development Minister Ignatius Chombo said the government wants to give the population the water it needs, but cannot do so until the rituals are performed and necessary repairs can be carried out.
Three quarters of Zimbabwe's population live on less than one US dollar a day.
16 January 2012, JellyBean @ 7:22 am
A female Zimbabwean nurse collapsed and fainted at local General Hospital after reportedly noticing what she described as a 'witch' sucking blood from a patient in a hospital ward.
The incident occurred while the nurse was carrying out routine checks on patients early on Wednesday morning. The nurse has now been admitted at the hospital, receiving treatment.
A hospital official said staff were now afraid to work nights following the incident which has become the talk of the city of Gweru.
"The affected nurse is still admitted in hospital where she is receiving treatment. Fear has now gripped the hospital staff following the incident as most nurses are now afraid to go on night duty," the unnamed official said.
The incident took place as the nurse made her routine rounds in the female wards at around 3am in the morning.
"When she came across the witch, the drip had been removed from the patient. The witch was apparently busy sucking blood from the patient and the on-duty nurse immediately raised an alarm upon witnessing the shocking incident. She (the nurse) suddenly collapsed and fainted," the hospital official said.
"She is still weak and is being attended to by a doctor. However, she is now able to narrate what really transpired on the fateful day."
Hospital superintendant, Dr Fabian Mashingaidze confirmed that a nurse was being treated at the institution but dismissed as fantasy reports of a "witch" citing.
"Let me assure the general public that there is no incident of that sort which happened at Gweru Provincial Hospital. It's a fabrication from some people who are fantasising," Dr Mashingaidze said.
"The nurse is being attended to by one of the doctors but her condition and the nature of the aliment is confidential."
16 January 2012, JellyBean @ 5:03 am
Sometimes events occur which make you wonder whether old superstitions hold a grain of truth.
Supermodel Eva Herzigova supposedly predicted disaster when she launched the doomed Italian cruise ship which ran aground Jan. 14 after the traditional Champagne bottle ceremony went awry.
Czech beauty Herzigova launched the ship back in 2006, but the ceremony went wrong after the Champagne bottle, which is traditionally smashed against the hull, failed to break.
According to maritime folklore, an 'unsmashed' bottle spells bad luck for the ship.
The Costa Concordia capsized off the coast of Italy after hitting rocks just yards from a dock on the island of Giglio.
Three people have been confirmed dead and more than 70 remain missing as emergency workers continue to hunt for survivors of the disaster, which has left the massive vessel semi-submerged on its side.
This is not the first time that ill-fortune has followed an 'unsmashed' bottle.
In December 2007 when a Cunard liner named for Queen Victoria was christened, the bottle also did not break.
A reporter from USA Today noted:
Camilla, the Duchess of Cornwall, the controversial wife of England's Prince Charles, christened the 2,014-passenger ship earlier this month in an elaborate ceremony in Southampton, England that was marred only by the fact the champagne bottle didn't break — a bad omen in the superstitious seafaring trade.
The first cruises of Cunard's Queen Victoria were marred by outbreaks of viral illness, an intense "vomiting bug," that afflicted passengers.
The British press was buzzing with tales of "The Curse of Camilla."
So far, the Queen Victoria has not suffered a catastrophic accident.
Newer Posts »