10 August 2011, JellyBean @ 6:22 am
Crop circles have always intrigued us. We have long debated whether their origins are man-made or extraterrestrial or something other.
Now we have the answer! At least according to Lara Giddings, the attorney general for the island state of Tasmania.
According to Giddings, wallabies that are stoned on Opium cause crop circles!
This from the Huffington Post:
Some people believe space aliens are responsible for those bizarre patterns found in farmland known as crop circles. Others are now saying the culprits are actually spaced-out critters.

Australia grows 50 percent of the world's legal opium, and you might be a bit shocked to learn what it does to the local wildlife.

Wallabies have been eating the crops and essentially getting "high as a kite," according to an Australian official who talked to the BBC. The marsupials are eating the poppies that grow on the plants, which are used to make painkillers like morphine.

But what they do next is even more bizarre.

The hopped-up creatures often walk around in the fields, creating crop circles that initially confused farmers, The Global Post reported. It's not just the wallabies having a good time inflicting damage on the medical crops — sheep have also been seen tramping on the crops, The Post reported.
10 May 2011, JellyBean @ 8:16 am
This latest crop circle pattern was found by Anthony Andrews on 7 May and then photographed by Steve Alexander.
"I was out walking with my wife during the late morning near Hannington (Wilts) and there is almost certainly a crop marking immediately to the north of Ashmead Brake woodland and the footpath that passes it. I have found a map reference on Streetmap: More exact co-ordinates are on http://www.streetmap.com. I did not wish to venture into the field at chance of agitating the land owner but it almost certainly not an agricultural marking. There appear to be three curved triangles flattened with a smaller one in the centre. I am not too good with measurements but it is sizeable. This has made my day and is very exciting. Aliens or humans?"
This photo was taken by Steve Alexander. You can see more amazing photo's of crop circles on his site.
Steve Alexander has been photographing the crop circles for twenty years. During that time he and Karen have provided a important service to the crop circle world by supplying professional quality photographic imagery of the circles to researchers, the media and the general public.
Since 1999 they have produced an annual Year Book showcasing the very best formations of each year along with a written commentary researched by Karen Alexander.
29 April 2011, JellyBean @ 6:53 am
Are crop circles evidence of aliens, or are they merely the handiwork of artistic humans?
Take a look and decide for yourself!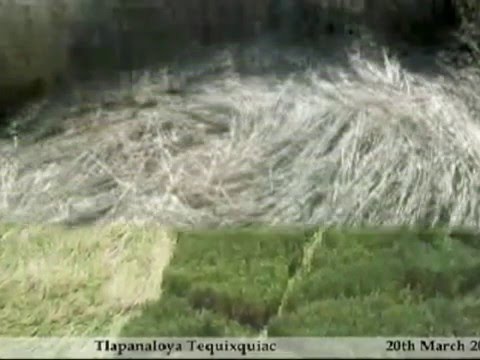 Crop circles included:
Crop Circle in Krasakan, Yogyakarta in Java, Indonesia – 23rd January 2011
Wanujoyo in Java, Indonesia found on 25th January 2011.
Tegalrejo in Java, Indonesia, reported on 29th January 2011.
Crop circle in Tlapanaloya, Tequixquiac, Mexico – 20th March 2011.
Bosschenhoofd in Netherlands, found on 24th April 2011,
Crop circle at Innage near Chepstow in Wales, UK – 22nd April 2011.
25 January 2011, JellyBean @ 9:35 am
For the first time in memory, a crop circle has appeared in Indonesia and the locals are claiming that it is evidence of aliens.
The crop circle appeared in a rice paddy near a hamlet named Sleman and measures a diameter of 70 meters.
Local scientists and government officials are baffled at the circle's appearance. According to locals, a tornado was seen in the area before the discovery, but scientists say that the shape could not be made by such a phenomena.
"I think they were left by an alien space ship, like one I saw on TV," Krasakan resident Cahyo Utomo told the Jakarta Post on Monday. "It is impossible that this was made by wind or any animal."
Police have now blocked off the area with yellow tape and villagers have started charging entrance fees as thousands of curious onlookers have flocked to the area. Among those turning out and offering their opinions were officials from Indonesia's space agency, well-respected astronomers and even nuclear agency officials.
"This particular crop circle is fascinating because of its striking resemblance to the muladhara chakra — one of the basic chakras in Tantric Hinduism," said another man known as Perdana.
At least some crop circles that have appeared around the world have been proven to be hoaxes, but others have been more inexplicable.
"If this really is the work of a UFO or extraterrestrial beings, it is almost 100 percent certain they would have left some sort of trace behind. It is highly improbable such beings could cover such distances without bringing along some sort of provisions," The former head of the Bosscha Observatory, Moedji Rharto told Jakarta News.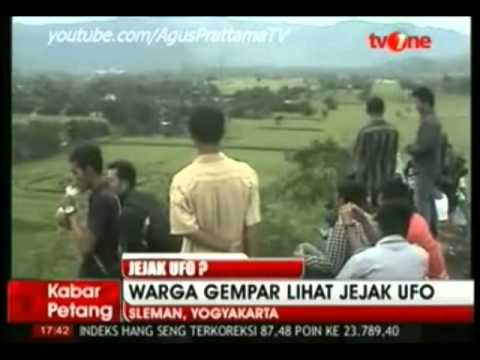 Newer Posts »