12 February 2009, JellyBean @ 9:28 am
What was the mysterious cylinder spotted in the skies above a busy caravan park in Somerset, England?
Luckily a holidaymaker had a video camera handy and managed to film the strange object.
Some people have said that it was nothing more than a 'high altitude observation balloon payload'. Others thinkit may be a kite. However, UFO 'expert' Malcolm Robinson insisted the object was 'totally consistent' with other sightings.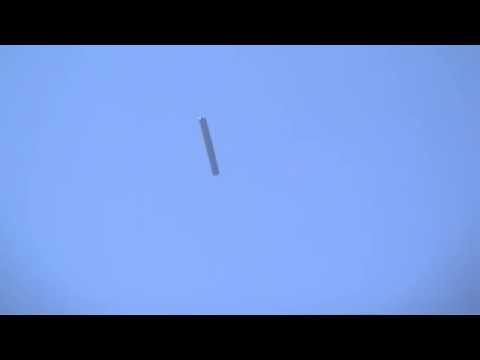 Robinson told reporters:
'While UFOs are commonly thought to be spherical in shape, we receive dozens of calls from people who have spotted similar cylinder-shaped objects.
'There is, of course, an argument that this could be a weather balloon or some other common object.
'But my research has shown that it is totally consistent with other UFO sightings, none of which have been hoaxes or naturally-occurring phenomena.'

Whatever it was, it provided a lot of entertainment and speculation for the hundreds of holidaymakers and motorists who also saw the cylinder.
This was also not the first time that something strange had been seen in the skies in the area. Just a month earlier reports of another mystery objected sent local coastguards in search of a mystery parachute and canister. Nothing was ever found.
Another strange coincidence is that this object was spotted on july 27th 2008, a day before the terrible fire of the grand pier in Weston-super-mare.
Read more:
The Sun: Aliens hover over campsite
Write a comment
You need tologin.