6 May 2010, JellyBean @ 5:25 pm
A man was bitten by three people and had his blood drunk in an alleged vampire-type attack in the dark on Wellington's Mt Victoria.
Two men and a woman have been charged with wounding with intent to render a man unconscious in relation to the bizarre attack on February 20.
James Phillip Brooks, 22, and Xenia Gregoriana Borichevsky, 19, were at Wellington District Court yesterday.
A warrant has been issued for the arrest of the third accused, James Eric Orr, 19.
Brooks told The Dominion Post yesterday that all three bit the victim, but he did not draw blood. "Do I look like a vampire?
The three were jointly charged last month with wounding with intent to render a man unconscious on the night of February 20, court documents show.
The charge carries a maximum penalty of 14 years in jail.
It is understood the victim passed out after being bitten.
Read more:
Related Reading:
20 April 2010, JellyBean @ 6:02 am
A THIRTEEN-YEAR-OLD Visitation Makumbe High schoolboy cut short his studies in February after he was afflicted by a strange condition that causes him to physically fight an invisible "monster".
Confirming the boy's condition, Visitation Makumbe High School resident priest Father Barnabas Mukumba last week said the boy initially complained of stomach pains that were followed by bouts of unconsciousness.
The Form One student was described as intelligent and scored four units in last year's Grade Seven national examinations.
The school authorities believe that the invisible "monster" could be a "goblin".
Although the school authorities could not confirm it, the boy's parents say their child experienced a "transfiguration" on February 10, the night before a major fight with the invisible opponent caused his body to glow.
"The boy would complain of stomach pains that would end in him being unconsciousness. At times he would be taunted by the invisible monster which would force him to scream and use his hands to fight it.
"One could actually see the boy simulating a fight with something or someone we could not see.
"On the first occasion, the boy claimed to have seen a short-bearded man wearing a black cloak. During his initial contact with the invisible creature, he would scream and try to ward off the invisible attacker and we later taught him to pray as a way to fight it off," said Fr Mukumba.
Read the whole article here:
Related Reading:
21 July 2009, JellyBean @ 9:56 am
"A PRIEST has been called in by a distraught mum after her teenage son told her he had been attacked by a ghost in the family home.
Terrified mum Beverley Wilkins turned to the church after son Daniel was left bruised and bewildered by what his family say could only have been a ghost or poltergeist."
The 13 year old Daniel was home alone when something picked him up and threw him out the house. He says that he saw nothing, but heard heavy breathing which sounded like it came from a man.
Read more at the Hartlepool Mail
Related Reading:
3 December 2008, JellyBean @ 8:50 am
The population of Córrego Salgado and Alegre, city of Itarema, [Ceará, Brazil], have been seeing in the last few days the visitation of a UFO that has been spreading panic. According to witnesses, the object usually flies over around at 6PM. Ufologist José Agobar is currently visiting Itarema and talking with witnesses that saw the object and analyzing possible evidence".
A child who witnessed the UFO was victim of perforations and underwent surgery. The boy suffered a cut that has taken nine stitches. Professor José Agobar alerted the local population to take care because new UFOs could appear. According to Agobar, this phenomenon repeats itself every 10 years.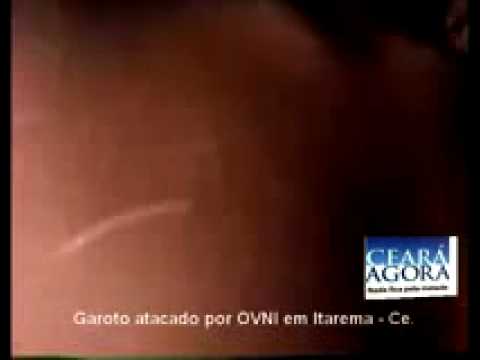 The boy, 6-years-old, was attacked near his own house. Despite his young age, he tells by himself the story that he saw a "burning star" over the Moon that suddenly stopped burning and landed. From it, two creatures came out and tried to grab him. Luckily, due to a barbed wire in which the creatures apparently entangled themselves, the boy managed to escape. But not before one of the creatures got something like a knife from its mouth and "poked" (that's the word used by the boy, "cutucar" in Portuguese) him.
Read more about this story on Forgetomori: Alien attacks boy… with a "knife" from its mouth
[ad#ad-1]
Related Reading:
« Newer Posts — Older Posts »