15 August 2011, JellyBean @ 8:34 am
The starchild skull came into the possession of Lloyd Pye in February 1999, the skull was found around 1930 in a mine tunnel about 100 miles (160 km) southwest of Chihuahua, Mexico, buried alongside a normal human skeleton that was exposed and lying supine on the surface of the tunnel.
Radiocarbon dating results conclude the skull is 900 years old + or – 40 years
In 2011 the geneticist working on the Starchild Skull discovered that its mtDNA (the part of DNA passed only through the maternal line) was radically different from human DNA.
The maximum number of mtDNA differences between all humans is 120. The Starchild Skull has between 800-1,000. This is a partial result, but it is enough to be definitive: the Skull's mtDNA is not human.
DNA has two types: nuclear (nuDNA) and mitochondrial (mtDNA). NuDNA is found in a cell's nucleus, and it comes from both parents. MtDNA is found in tiny sub-cellular units called mitochondria that float in the cell's cytoplasm (the jelly-like interior). MtDNA passes to each generation only through the maternal line.
Errors or not, we can be supremely confident that the confirmed total of the Starchild's differences will fall between 800 and 1000 bp, while all humans are 120 or less. Using the most effective techniques science can bring to bear to solve any problem of genetic heritage, techniques that are used with finality in court cases worldwide, the Starchild is shown to be nowhere near the ballpark of human or prehuman. This result is definitive.
Read the whole amazing article on UFO-Blogger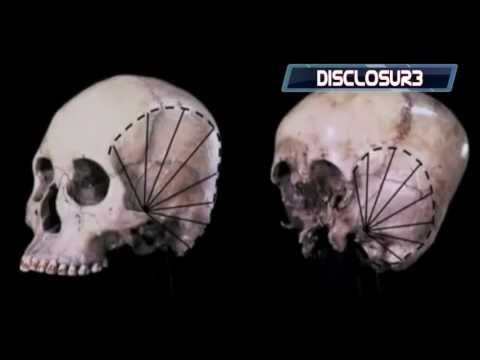 Related Reading:
5 June 2011, JellyBean @ 5:39 am
What is this strange artifact found on Google Earth's Mars map? Could it be a an ancient alien 'space station', or could it be a Mars base for a secret space program conducted by the US government?
David Martines claims to have discovered a mysterious structure on the surface of the red planet – by looking on Google earth.
He claims to have randomly uncovered the picture while scanning the surface of the planet one day.
Describing the 'structure' as a living quarters with red and blue stripes on it, to the untrained eye it looks nothing more than a white splodge on an otherwise unblemished red landscape.
He even lists the co-ordinates 49'19.73″N 29 33'06.53″W so others can go see the anomaly for themselves.
'This is a video of something I discovered on Google Mars quite by accident,' he said in a Youtuve video (below)
'I call it Bio-station Alpha, because I'm just assuming that something lives in it or has lived in it.
'It's very unusual in that it's quite large, it's over 700 feet long and 150 feet wide, it looks like it's a cylinder or made up of cylinders.
'It could be a power station or it could be a biological containment or it could be a glorified garage – hope it's not a weapon.
'Whoever put it up there had a purpose I'm sure. I couldn't imagine what the purpose was. I couldn't imagine why anybody would want to live on Mars.
'It could be a way station for weary space travellers. It could also belong to NASA, I don't know that they would admit that.
'I don't know if they could pull off such a project without all the people seeing all the material going up there. I sort of doubt NASA has anything to do with this.
'I don't know if NASA even knows about this.'
Neither NASA nor Goggle have not made any comment yet about the image.
Biostation Alpha?
Interview with David Martines:
Related Reading:
14 March 2011, JellyBean @ 6:38 am
Personally I do not believe in 'Indigo children' and I really think that this entire story is a load of bunk. However, I think that some people may find this interesting and it would be interesting to see what Boriska is saying now in 2011.
Project Camelot Interviews Boriska:
…………………………
Boris Kipriyanovich is an Indigo Child, probably the most famous in Russia. Boriska, or 'little Boris', was featured in Pravda after Gennady Belimov, a university professor in the Volgograd region of Russia, witnessed Boriska, then aged just seven, astound an adult audience during a camping trip in which he held them spellbound for an hour and a half as he recounted tales of past lives on Mars and Lemuria, and warned of catastrophes due to affect the Earth in 2009 and 2013.
Within a short time, word was spreading within Russia about what this diminutive prophet had to say, especially once the story was picked by Moscow's premier newspaper.
Word filtered to the west, where we first heard about him in our interview with Michael St Clair last year. Meanwhile, there had been a short piece about him in Nexus Magazine which had stirred up a huge amount of interest.
So Project Camelot decided to travel to Russia to find him. It seems we were the first westerners to have made the journey. On 8 October, we were privileged to interview him with his mother, Nadya, near Moscow where Nadya had brought him to attend a special school for gifted children. They live in a small one-roomed apartment. The father is absent. We will do all we can to help.
Boriska was twelve on 11 January 2008. Nearly a teenager, he is charming, delightful, shy, alert, perceptive, sensitive, and clearly highly intelligent. His most memorable comment to us was when Kerry asked him what he thought of the people of planet Earth. "I don't like saying bad things about people", he replied…
From: Project Camelot
Related Reading:
26 September 2010, JellyBean @ 3:51 pm
This just in from the Daily Mail:
If aliens ever land on Earth there will no longer be any confusion over who will greet them with the news the United Nations is set to appoint an astrophysicist to be their first human contact.

Mazlan Othman is expected to be tasked with coordinating humanity's response to an extraterrestrial visit, if ever required.

The 58-year-old Malaysian will tell a conference next week that with the recent discovery of hundreds of planets orbiting around other stars, the detection of alien life is becoming more and more likely.

Ms Othman, currently the head of the UN's Office for Outer Space Affairs (Unoosa), recently told fellow scientists that mankind needed to be ready to deal with alien contact.

'The continued search for extraterrestrial communication, by several entities, sustains the hope that some day human kind will received signals from extraterrestrials,' she said.

'When we do, we should have in place a coordinated response that takes into account all the sensitivities related to the subject.

'The UN is a ready-made mechanism for such coordination.'
Is this another step towards formal disclosure? Why do they feel it necessary for such a position to be created – especially now? Makes you think, doesn't it?
Related Reading:
« Newer Posts — Older Posts »