21 May 2012, JellyBean @ 4:26 am
A mysterious creature has been captured on camera at London's Hackney Marshes – 30 years after the unexplained sighting of another mystery beast sparked a full-scale search for a suspected bear on the loose.
Terrified university student Helen Murray said she took the snaps while out for a stroll near dense woodland close to a path near the Old River Lea on bank holiday Monday earlier this month.
She said she was stopped in her tracks by the unknown animal, which was larger than a person and covered in shaggy black fur. "I tried to stay calm as I wasn't sure what kind of animal it was or if it was even alive," she said. "I had my phone ready to call 999. Then the creature moved. Somehow I managed to take a couple of pictures before I ran.
"I managed to get away but was scared half to death." Ms Murray says she didn't contact the police because she thought they wouldn't believe her. A spokeswoman for Hackney police said there have been no other reports of sightings, while experts at London Zoo said the pictures were not clear enough for them to comment.
Related Reading:
17 May 2012, JellyBean @ 5:31 am
A UFO, which did not show up on radar, nearly caused a mid-air collision over the skies of Denver with a corporate jet on Monday evening and officials have no idea what it was.
Because the private pilot was the only witness, and due to the lack of any radar signature, the incident falls into the category of an encounter with an unidentified flying object.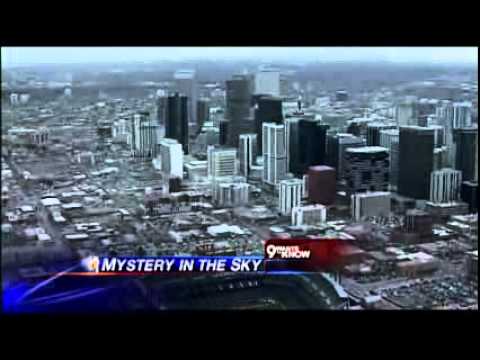 Related Reading:
16 May 2012, JellyBean @ 6:03 am
An 11-year-old Vietnamese girl in HCM City can radiate and burn things that surround her, confirmed his father on May 13.
Mr T. in Ward 2, Tan Binh district, said that her daughter automatically burnt nearly everything in the third storey of their house on May 12, perhaps with the super-energy radiated from her body. The girl was not exposed to fire inducing objects.
Fire fighters were called to distinguish the fire.
Mr T.'s family discovered his daughter's unique ability about one month ago and has recently allowed the media to meet her in the hope that both domestic and foreign scientists can step in and help treat her bizarre 'disease'.
Mr T. said his family has been worried, tired and tense following several recent incidents.
At first, his family's electricity network underwent repetitive short circuiting. Many electrical sockets in the house also burnt when the girl approached them.
Taking the girl to other homes causes the same phenomenon. She also burnt the hotel room where her family stayed during their holiday on Vung Tau beach.
Recently, the girl burnt a corner of the toilet seat . Sometimes, her clothes suddenly burst into flames.
Her family now guards her around the clock to prevent any possible incident. When she goes to sleep, water buckets and a wet towel will be placed next to her bed to put out the fire in case of emergency.
The T. family took the girl to a scientist, named Du Quang Chau, at Hong Bang International University for treatment.
After several tests, the scientist said he noticed variations from the norm in her cerebral hemisphere. Further research into her strange case is needed, according to Chau.
The girl was medically examined at Cho Ray Hospital and the Children No 2 Hospital but doctors found nothing abnormal about her body.
The girl once had a serious accident at the age of 3.
Related Reading:
9 May 2012, JellyBean @ 4:31 am
A ranch in North Texas is offering a reward for information leading to the arrest of the person responsible for the killing of its sacred white buffalo.
The rare white buffalo, a male calf named Lightning Medicine Cloud, was found slaughtered and skinned on April 30 on Lakota Ranch near Greenville, Texas.
The calf was just shy of its first birthday. The calf's mother also died the following day.
The ranch's owner, Arby Little Soldier, said he thinks the mother was poisoned. Little Soldier, the great-great-great grandson of Sitting Bull, was away on a trip when the white buffalo was killed.
"Someone who probably knew we were out of town killed him and stripped the meat," Little Soldier told the Fort Worth Star-Telegram. "I think it was a professional hit on the mom."
According to the paper, the ranch and its supporters are offering $45,000 for information leading to the killer. According to the ranch's website, Native Americans "see the white buffalo calf as the sign to begin life's sacred hoop."
And they are very rare. According to the National Bison Association, just one out of every 10 million buffalo born are white.
The Texas Rangers, the Bureau of Indians Affairs and the Hunt County Sheriff's Department have all pledged their resources. They've launched a joint investigation and have vowed to do whatever they can.
Since the incident happened last week, the ranch has been inundated with sympathy and well-wishes from all over the world.
News video HERE
Related Reading:
« Newer Posts — Older Posts »