9 September 2011, JellyBean @ 6:23 am
30 August 2011, JellyBean @ 6:21 am
Documentary from Red Ice TV:
In this episode, we discuss the secret space program, what it is, who is behind it and why? Is there a human civilization living off-world with highly advanced technology and knowledge about the existence of aliens? Why are we being kept in the dark?
We feature Peter Levenda, Richard Dolan, Richard Hoagland, Rauni-Leena Luukanen-Kilde, Timothy Good, Hugh Newman, Jonathan Adams, Ed Grimsley, Robin Falkov, Jeroen Van Straaten and attendees of the Secret Space Program conference in Amsterdam who also share their own experiences with UFO sightings. Then, we hit the streets of Amsterdam where the locals speak their mind about aliens, abductions and making contact with ET.
Duration: 59 Minutes
15 August 2011, JellyBean @ 8:34 am
The starchild skull came into the possession of Lloyd Pye in February 1999, the skull was found around 1930 in a mine tunnel about 100 miles (160 km) southwest of Chihuahua, Mexico, buried alongside a normal human skeleton that was exposed and lying supine on the surface of the tunnel.
Radiocarbon dating results conclude the skull is 900 years old + or – 40 years
In 2011 the geneticist working on the Starchild Skull discovered that its mtDNA (the part of DNA passed only through the maternal line) was radically different from human DNA.
The maximum number of mtDNA differences between all humans is 120. The Starchild Skull has between 800-1,000. This is a partial result, but it is enough to be definitive: the Skull's mtDNA is not human.
DNA has two types: nuclear (nuDNA) and mitochondrial (mtDNA). NuDNA is found in a cell's nucleus, and it comes from both parents. MtDNA is found in tiny sub-cellular units called mitochondria that float in the cell's cytoplasm (the jelly-like interior). MtDNA passes to each generation only through the maternal line.
Errors or not, we can be supremely confident that the confirmed total of the Starchild's differences will fall between 800 and 1000 bp, while all humans are 120 or less. Using the most effective techniques science can bring to bear to solve any problem of genetic heritage, techniques that are used with finality in court cases worldwide, the Starchild is shown to be nowhere near the ballpark of human or prehuman. This result is definitive.
Read the whole amazing article on UFO-Blogger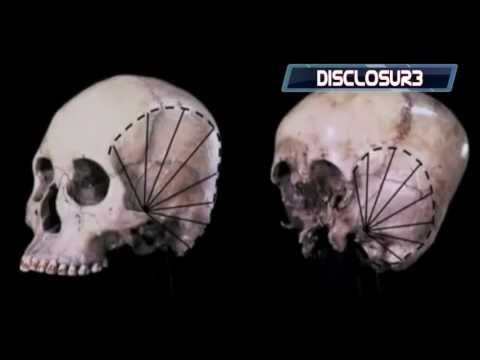 9 August 2011, JellyBean @ 5:21 am
Scientists have finally identified the weird orange goo that appeared along the shore of a remote Alaska village.
They believe that the goo is in fact millions of microscopic eggs filled with fatty droplets.
But there is still a mystery as the officials with the National Oceanic and Atmospheric Administration said they don't know for sure what species the eggs are, although they believe they are some kind of crustacean eggs or embryos.
In fact, the do not even know whether the eggs are toxic or not, or even why they suddenly appeared!
"We'll probably find some clues, but we'll likely never have a definitive answer on that," NOAA spokeswoman Julie Speegle said.
This worries many of the 374 residents of Kivalina, an Inupiat Eskimo community located at the tip of an 8-mile barrier reef on Alaska's northwest coast.
There's been at least one report of dead minnows found in the lagoon of the village the night the eggs appeared last week.
Residents also are worried about the community's dwindling reserves in village water tanks even though the orange mass has dissipated from the lagoon and Wulik River, said city administrator Janet Mitchell.
"It seems to be all gone," she said. "But if they're microscopic eggs, who's to say they're not still in the river?"
Samples are being sent to a NOAA laboratory in Charleston, S.C., for further analysis. The Alaska Department of Environmental Conservation also sent samples Monday to the Institute for Marine Science at the University of Alaska Fairbanks.
« Older Posts — Newer Posts »