10 August 2011, JellyBean @ 6:22 am
Crop circles have always intrigued us. We have long debated whether their origins are man-made or extraterrestrial or something other.
Now we have the answer! At least according to Lara Giddings, the attorney general for the island state of Tasmania.
According to Giddings, wallabies that are stoned on Opium cause crop circles!
This from the Huffington Post:
Some people believe space aliens are responsible for those bizarre patterns found in farmland known as crop circles. Others are now saying the culprits are actually spaced-out critters.

Australia grows 50 percent of the world's legal opium, and you might be a bit shocked to learn what it does to the local wildlife.

Wallabies have been eating the crops and essentially getting "high as a kite," according to an Australian official who talked to the BBC. The marsupials are eating the poppies that grow on the plants, which are used to make painkillers like morphine.

But what they do next is even more bizarre.

The hopped-up creatures often walk around in the fields, creating crop circles that initially confused farmers, The Global Post reported. It's not just the wallabies having a good time inflicting damage on the medical crops — sheep have also been seen tramping on the crops, The Post reported.
Related Reading:
10 August 2011, JellyBean @ 5:40 am
A Saudi man is believed to have been gripped by jinn (ghosts) during a picnic with his friends in a valley which is reputed to be haunted. But he was later treated in an exorcist-style session by the Gulf Kingdom's religious police.
The unnamed man and seven friends from the western town of Makkah were vacationing in the nearby Taif city when they decided to descend into Wadi Al-Amak (the deep abyss) despite warnings by local people.
After a short evening trip in the valley, the colour of the man's began to change and his behavior became aggressive before he lost balance and fell down.


When his friends tried to talk to him, he shouted and pushed them away while his eyes were fixed at an area deep in the valley.
"Friends then overpowered him and washed his face with cold water…it was clear the man was haunted by a jinn," Sabq Arabic language daily said.
"They then decided to carry him back to town…they were told that the valley is haunted and that there were two similar cases in the past."
The paper said the man was taken to the Commission for the Promotion of Virtue and Prevention of Vice, the most influential Islamic law-enforcement authority in the conservative Moslem Gulf nation.
"The Commission brought experts in such cases and subjected the man to a session of Koran recitation and incense burning until the jinn was forced to get out of the man through his hand…once the session was over, the man began to restore his strength…after a while he fully recovered and started to ask his friends why he was brought to that place."
Source: Emirates 24/7
Related Reading:
10 August 2011, JellyBean @ 5:24 am
Numbers stations (or number stations) are shortwave radio stations of uncertain origin. In the 1950s, Time magazine reported that the numbers stations first appeared shortly after World War II and were using a format that had been used to send weather data during that war.


Numbers stations generally broadcast artificially generated voices reading streams of numbers, words, letters (sometimes using a spelling alphabet), tunes or Morse code. They are in a wide variety of languages and the voices are usually female, although sometimes men's or children's voices are used.
Evidence supports popular assumptions that the broadcasts are used to send messages to spies. This usage has not been publicly acknowledged by any government that may operate a numbers station, although two QSLs have been received from numbers stations by shortwave listeners who sent reception reports to said stations, which is the expected behaviour of a non-clandestine station.
One of the most famous is UVB-76. Some time ago we wrote an article "Ultra-Secret Russian 'Doomsday' UVB-76 Station Hiccups Again".
……………………..
Lecture held at the Delft University of Technology in 2011.
This lecture serves as an introduction to the subject of "Numbers Stations". Mainly because of the time limit of around 60 minutes, including a Q&A.
Enjoy watching and listening to it.
Other examples of Numbers Station: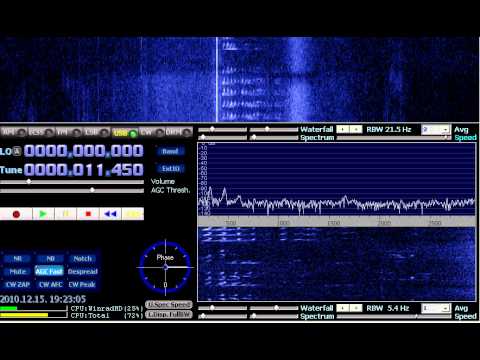 Related Reading: