29 April 2011, JellyBean @ 6:53 am
Are crop circles evidence of aliens, or are they merely the handiwork of artistic humans?
Take a look and decide for yourself!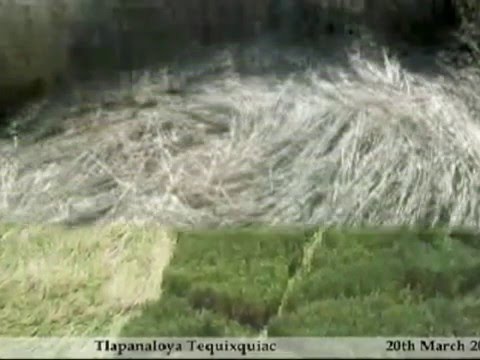 Crop circles included:
Crop Circle in Krasakan, Yogyakarta in Java, Indonesia – 23rd January 2011
Wanujoyo in Java, Indonesia found on 25th January 2011.
Tegalrejo in Java, Indonesia, reported on 29th January 2011.
Crop circle in Tlapanaloya, Tequixquiac, Mexico – 20th March 2011.
Bosschenhoofd in Netherlands, found on 24th April 2011,
Crop circle at Innage near Chepstow in Wales, UK – 22nd April 2011.
Related Reading:
25 April 2011, JellyBean @ 8:02 am
Down in Steytlerville, a small town in the Cape Karoo, the villagers are being plagued by rumours of a shape-shifting monster.


"The community says that the monster changes shape while you are looking at it," Warrant Officer Zandisile Nelani of the South African Police said.
He said one man had reported it changed from a man wearing a suit into a pig and then into a bat. The creature had been sighted on a number of occasions near a church and only appeared at night, Nelani said.
Local residents met with police last week to discuss the strange phenomenon.
Nelani said he had asked people to take a photograph of the alleged monster. Although some locals were frightened of it, it had not harmed any people or livestock.
Related Reading:
20 April 2011, JellyBean @ 3:55 pm
Guatemala is in the midst of quite the hubbub of excitement over the claims of a retired German teacher.
Joachim Rittstieg says ancient Dresden Codex and Mayan priests guided him to the legendary Atlantis in eastern Guatemala.


The city is underwater and is laden with untouched treasure, according to Rittstieg. These include eight tons of gold tablets.
He claims to have found Atlantis following his visit to Lake Izabel in eastern Guatemala. Instead of being dismissed, Mr. Rittstieg has garnered a lot of interest by the media.
The buzz over Rittstieg is "very strange," says Oswaldo Chinchilla, a Guatemalan archaeology professor and Mayan museum curator. "This is complete fantasy," he says.
Rittstieg counters that he can't help it that he found the city and the experts didn't.
He claims the US Navy helped detect the exact location after following instructions in the Dresden Codex and the assistance of Mayan priests.
"They say it cannot be. But I have the basic information now," says Rittstieg, who is seeking funding for an excavation.
Related Reading:
18 April 2011, JellyBean @ 2:35 pm
Older Posts »