10 March 2011, JellyBean @ 8:14 am
In this video you'll see a family target shooting with a shotgun at some undisclosed location. We can hear a helicopter flying above. After a few shots we see in the background a dark figure leap then run across the snow-covered field, then dropping down onto all fours. (Watch the video in full screen mode for the best view.)
According to the poster, they didn't notice that thing in the background until they later viewed the video. They first thought the helicopter was watching them, but later wondered if it was tracking the "Bigfoot."
My husband and I took our kids target shooting. A helicopter was over our heads the entire time annoying us. We thought at first they were curious of why and what we were shooting. Later when we watched the video we noticed something that looked like bigfoot running in the trees. We assume now the helicopter was hunting the bigfoot. Scary!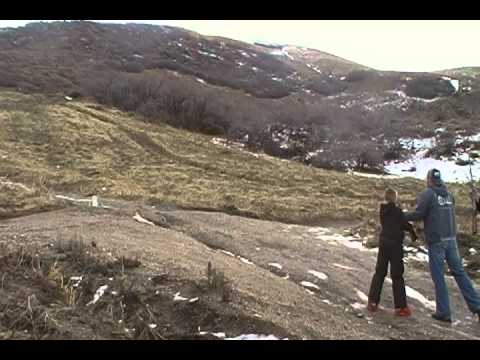 I am always suspicious of these videos. What do you think?
Related Reading:
10 March 2011, JellyBean @ 7:40 am
So what does a bored performance artist and amateur filmmaker do to make life more interesting? Thats right! He dresses up as Bigfoot and meanders around national parks!
First there was a Bigfoot sighting. Now, there's a Bigfoot suing.

A performance artist and amateur filmmaker who dressed as the mythical beast says New Hampshire park rangers didn't have the right to kick him off a mountain where he had been scaring, or at least amusing, hikers while friends videotaped his antics.

Backed by the American Civil Liberties Union, Jonathan Doyle is suing the state, arguing that the requirement to pay $100 for a special use permit 30 days in advance and get a $2 million insurance bond violates his free speech rights.

"The underlying activities are humorous, but the principle's important," said Jon Meyer, a lawyer representing Doyle. "We're talking about a very small-scale activity in a very large place. We don't believe there's any legitimate government role in regulation."

Doyle's attorneys say no one complained to the state park service after Doyle first dressed as Bigfoot, ran around the rocky top of Mount Monadnock, returned to human form and interviewed bystanders about what they saw Sept. 6, 2009.

Read the rest of the article on Yahoo News
Thanks to Weird World News
Related Reading: