16 January 2009, JellyBean @ 9:30 am
You have all heard about the famous crop circles which have been popping up all over the world for years, but have you heard of ice circles?
Around the world, reports have been coming in about strange ice circles forming on frozen lakes, creeks and rivers. But what exactly are they?
This video of an ice circle was posted on YouTube by user misskeelypup. It shows a mysterious "creek circle" that appeared in Rattray Marsh, Mississauga, Ontario.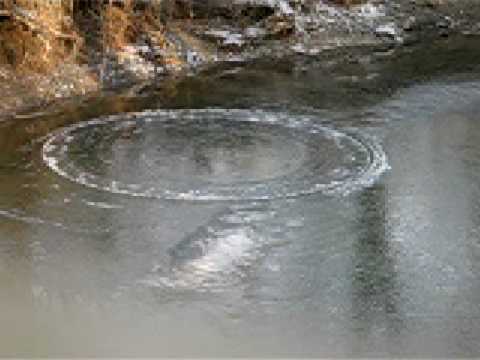 [ad#ad-1]
According to some, an ice circle is a natural occurance which occurs only in the coldest of places. They form when ice forms inthe middle of a body of water. Currents spin the ice slowly which then shapes it into a circle. Once the rest of the river freezes, the ice circle is visible.
Reports of ice circles have been around for centuries, from the Arctic, Scandanavia, Russia, Canada and more recently in England.
Roy Jeffries went out one chilly Devon day to take his dog for a walk. He decided to walk along the frozen River Otter when he came across this strange phenomenon. He took photos of the circle which measued about 10 feet.
However, a spokesman for the Meteorological Office admitted to reporters that 'we're kind of a bit stumped to be honest'.

'We have not seen anything like this before and we've no idea why they seem to be more common in Scandinavia.'
Some UFO-enthusiasts disagree with the spinning ice theory, claiming that, like crop circles, the perfect discs are created by visiting aliens.


First published reports on the phenomena were in the 19th century. A drawing of an ice circle was published in the Scientific American in 1895. Illustrated London News also catalogued one that formed near Toronto in 1930 under the headline "Jack Frost describes a circle".
One thingis clear, it is virtually impossible that these circles are caused by hoaxers as in many cases they appear in the middle of a lake with a very thin ice sheet. These ice sheets would not be able to support the weight of a human.
Could they be the winter equivalent of a crop circle, or is the phenomena merely caused by the miracle of nature?
Read more:
Times Online: Met Office mystery over rare ice circle formed in Devon
Mail Online: Ice one! Walker discovers 10ft-wide, spinning frozen arctic circle in British waters for the first time
Related Reading: