30 August 2008, JellyBean @ 3:58 am
Press Release:
The Pennsylvania Bigfoot Society is proud to announce the return of the East Coast Bigfoot Conference during the weekend of September 26, 27 and 28, 2008 to be held in the banquet hall located above Pitzer's Townhouse Restaurant 101 S. 5th Street, Jeannette PA. 15644. The public is invited to attend this three day event organized to educate and inform the public on sightings, investigations and research into the Bigfoot phenomenon occurring in the Eastern United States.
The East Coast Bigfoot Conference weekend will begin on September 26, 2008 with a meet and greet to be held at Pitzer's Townhouse Restaurant 101 S. 5th Street, Jeannette Pennsylvania beginning at 7:30 PM. The meet and greet is open to the public with free admission. A menu is available for ordering dinner during the event.
(more…)
Related Reading:
29 August 2008, JellyBean @ 7:22 am
A group of filmmakers claim to have successfully captured on film Sweden's legendary Great Lake Sea Monster (Storsjöodjuret), which is said to lurk in the waters of the Storsjön outside Östersund in northern Sweden.
In 1986, Jämtland's county administrative board banned anyone from "killing, injuring, or trapping a live animal such as the Great Lake Sea Monster" or from "removing or injuring the Great Lake Sea Monster's eggs, roe, or dwelling".
The Local: Swedish sea monster 'caught on film'
Related Reading:
29 August 2008, JellyBean @ 3:57 am
An Unidentified Flying Object was supposedly seen by a number of people at the Gateway of India in Mumbai on Thursday. Video was also supposedly taken of the mysterious object and posted on Youtube.
The video shows a strange object coming out of nowhere, remaining in view for some seconds before vanishing again.
Personally I feel that the video looks totally fake. Here it is for you to decide: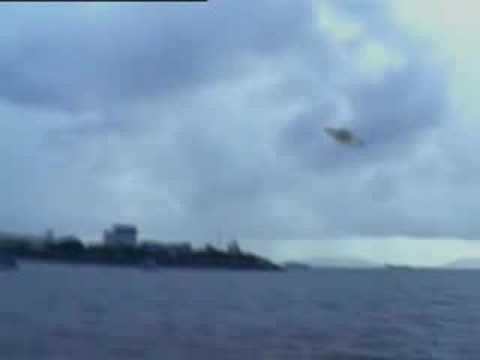 The problem is that many people have come forward to say they have seen the UFO. Inevitably this raises a number of questions: Did people actually see something, or is it just a case of people just trying to get their 2 minutes of fame? Is this a fake video put up to discredit a real sighting?
One Mumbai resident told media: "There is another world beyond the earth and the sighting of UFOs confirms this."
Another resident was not as enthusiastic: "UFO sighting in Mumbai? Guess someone had too much free time. How can someone possibly spot a UFO in the city filled with smoke, smoke and more smoke?."
Merinews: UFO sighted in Mumbai
Comment below or in the forum
Related Reading:
28 August 2008, JellyBean @ 9:00 am
This week saw Derby being listed in a report as THE place to be for anyone keen to see a ghost or poltergeist.


The Supernatural Britain report, which investigated spooky sightings in 40 of Britain's cities, found there had been 315 in Derby – an average of 14 sightings per 10,000 people.
One building in particular stood out amongst all other haunted locations: Jacobean House.
Jacobean House was Derby's first brick building, built in 1611. It was once much larger, having five gables until in 1855 when the Victorians drove Becket Street right through the house.
Mrs Gisbourne, the wife of Derby's mayor, was the first lady within the town to have her own coach. When she left her home her servants and retainers always accompanied her to the borders of Derbyshire.
To this day, a mysterious phantom coach and horses are sometimes seen parked outside the house and a headless coachman has been seen coming through the coach archway which may still be seen on the left-hand side of the building.

[ad#ad-1]
Also, the dark, mysterious figure of a man is seen standing in the Wardwick entrance to the house. A solicitor who once had offices in the building, moved his premises elsewhere as he could no longer stand working in the building late at night, due to the strange things that happened there when he was alone.
One lady, Mrs Hall, a former worker at Jacobean House experienced the following:
(more…)
Related Reading:
Older Posts »