7 July 2008, JellyBean @ 9:33 am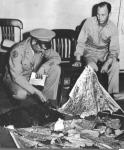 The intelligence office of the 509th Bombardment group at Roswell Army Air Field announced at noon today, that the field has come into possession of a flying saucer.
According to information released by the department, over authority of Maj. J. A. Marcel, intelligence officer, the disk was recovered on a ranch in the Roswell vicinity, after an unidentified rancher had notified Sheriff Geo. Wilcox here, that he had found the instrument on his premises.
After the intelligence officer here had inspected the instrument it was flown to higher headquarters.

[ad#ad-1]
Major Marcel and a detail from his department went to the ranch and recovered the disk, it was stated.
The intelligence office stated that no details of the saucer's construction or its appearance had been revealed.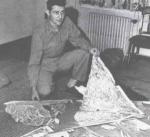 Mr. and Mrs. Dan Wilmot apparently were the only persons in Roswell who saw what they thought was a flying disk.
Wilmot called Mrs. Wilmot's attention to it and both ran down into the yard to watch. It was in sight less then a minute, perhaps 40 or 50 seconds, Wilmot estimated.
They were sitting on their porch at 105 South Penn. last Wednesday night at about ten o'clock when a large glowing object zoomed out of the sky from the southeast, going in a northwesterly direction at a high rate of speed.
(more…)
Related Reading: